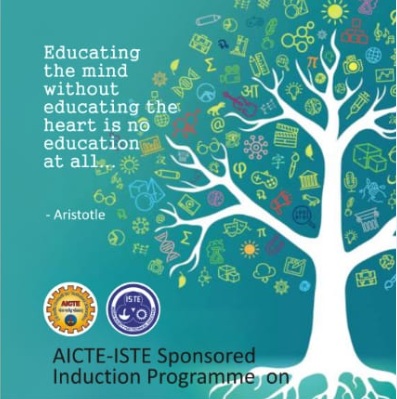 ABOUT ISTE
The Indian Society for Technical Education (ISTE) is the leading National Professional non-profit making Society for the Technical Education System in our country with the motto of Career Development of Teachers and Personality Development of Students and overall development of our Technical Education System. Being the only national organisation of educators in the field of Engineering and Technology, ISTE effectively contributes in various missions of the Union Government. The strength of ISTE is the strong base it has in technical education institutions in the country. At present, the ISTE has a very large and an effective membership base consisting of 124024 Life Members, 5 lakh Student members, 2734 Institutional Members, 1369 Faculty Chapters, 1479 Student Chapters at institutional level and 17 Sections at State level.

OBJECTIVE
The major objective of the ISTE is to provide quality training programmes to teachers and administrators of technical institutions to update their knowledge and skills in their fields of activity and to assist and contribute in the production and development of top quality professional engineers and technicians needed by the industry and other organisations.
ISTE SSM POLYTECHNIC COLLEGE CHAPTER
A vibrant ISTE chapter is working in our institution . We have conducted various seminars and workshops for our faculty as well as students.
One of the major events was in November 2012. We hosted 23rd annual state conference of of ISTE in a wonderful manner. The then education minister Sri pk Abdul Rab inaugurated the conference. Around 500 delegates from various institutions of Kerala attended the conference. Mr. Subair.P,Lecturer in mechanical engineering was the organising secretary of the event.
Our ISTE chapter bagged awards for best faculty chapter in the state for many years.At present Mr.Abdul nazer Kaipancheri(principal) is the Chairman and Mr Firoz Mohammad, lecturer in Mechanical is the secretary of ISTE Chapter.
We have a student chapter of ISTE in our institution. Many programs have been conducted for the beneficial of our students community.
Mr .Bipin.C.N is the faculty advisor of student chapter.
Our staff member Mr Subair.P , lecturer in mechanical engineering has been selected as national executive Council member of ISTE
For more information about ISTE,Visit
www.isteonline.in
.