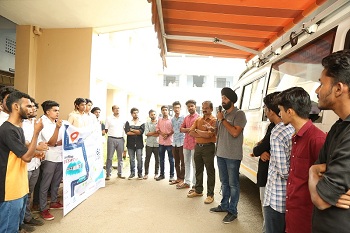 Rehab'athon is a one year long massive initiative and campaign for generating and promoting innovative ideas / prototypes/ products and co-creating affordable rehabilitation technologies in Palliative/ Elderly care, inspiring students and enthusiast to shape up their ideas in making assistive devices to support differentially abled people.
Rehab'athon aim to improve life of needy people in our community and rehabilitate them empowering through innovations in palliative care with emphasis on pressing needs of differentially abled people especially transfer and mobility.
With a great vision of promoting innovations in younger minds right from nurturing their vague ideas through idea pitching, design thinking, product designing, patent search, economic viability, business plans, etc.
Future plans include organizing events for developing Community Based rehabilitation technology projects and product ideas for supporting differentially abled people like seminars/ workshops/ idea pitching/ design thinking/ prototyping/ product making/ makeathon/ hackathons/ industry connections etc. jointly with Varam community Tirur, Creativiti Council, IEDC networks, Kerala startup mission and other future associates and finally showcase the achievements during December 2019.
The official launching ceremony of this programme was conducted on 07th December 2018 at SSM Polytechnic College auditorium. Sri. A. P. Unnikrishnan, president of Malappuram District Panchayath was inaugurated the function and Sri. K. Bava, Chairman of Tirur municipality presided over.